| | |
| --- | --- |
| | eCourts Portal of Western Australia - Help: Search for Civil Matters/Files |
Search All My Matters
To search for a particular one of your matters (whether it has been completed or not) there is an option on the My Current Matters page called Search All My Matters.
01. After logging in click on My Current Matters.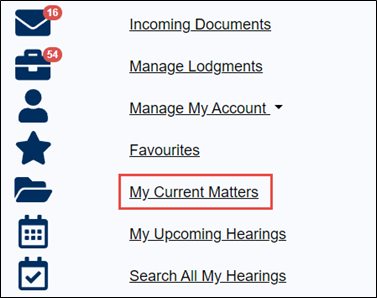 02. Click on Search All My Matters.
The Search All My Matters screen appears.

03. Enter the jurisdiction, division and location of the matter (i.e. where it originally commenced).

04. Enter the matter type, number, and year of the matter (or enter the name of one of the parties.
05. Click Search.
After displaying a matter in this screen, you can click Lodge to commence the lodgment of a document onto a particular matter (see the Lodge a Non-Originating Document help card).
How do I view documents on a matter/file?
This cannot be done through the Search All My Matters screen. Return to the home page and click on the eLodgment link. Search for the matter/file via the Quick Matter Search at the bottom of the screen. View the matter/file and then click on the View Documents List link.
Click here for the help card.