| | |
| --- | --- |
| | eCourts Portal of Western Australia - Help: My Fines and Infringements |
Search for and Pay a Fine/Infringements
To view and pay fines and infringements you do not need to register an account or be logged in.
01. From the home screen click either of the below options:
View Fines/Infringements

Pay Fines/Infringements
The My Fines/Infringements screen displays.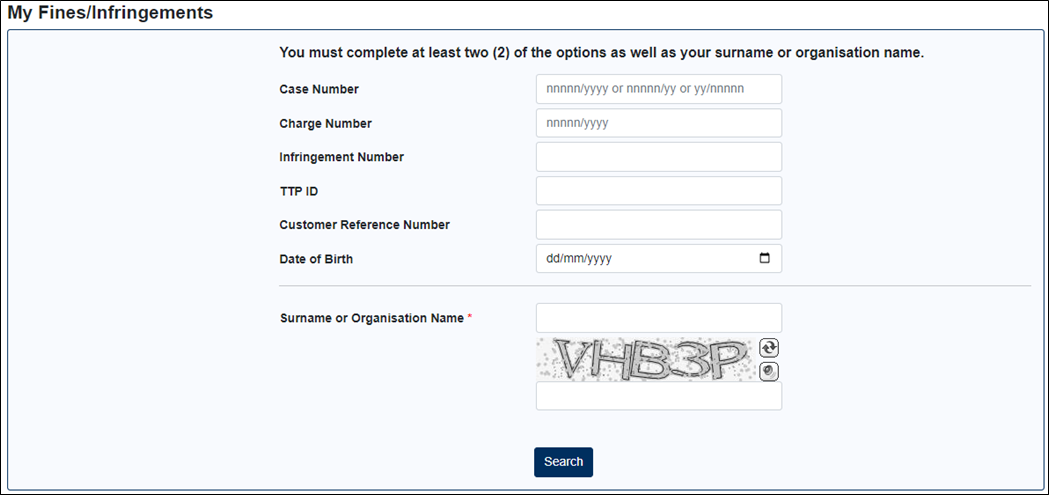 02. Enter the person's Surname or the Organisation Name plus any of the below two options.
Case Number

Charge Number

Infringement Number

TTP ID

Customer Reference Number

Date of Birth
Details are entered.
03. Enter the captcha code.
The captcha code is entered.
04. Click Search.
The fines/infringements for the person/organisation are displayed.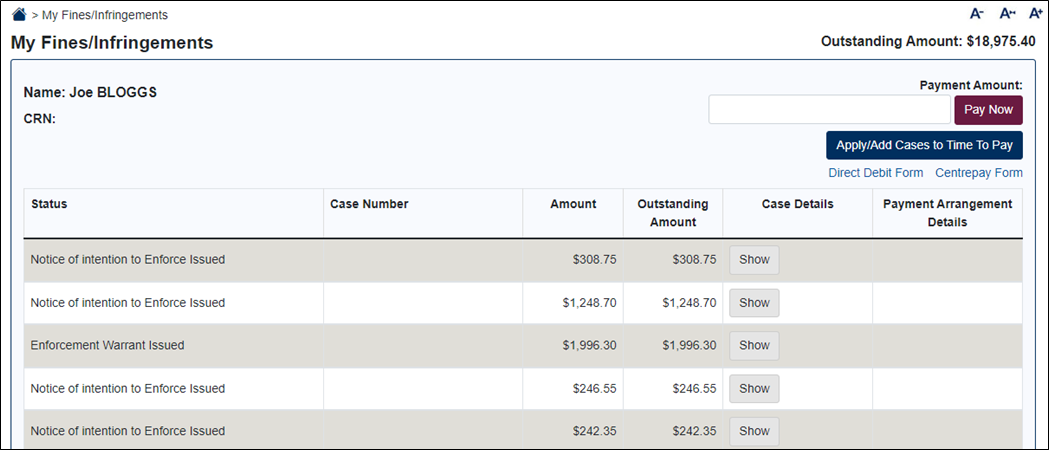 NOTE: Click the Submit button in the Case Details column for a particular fine/infringement to see more details.
05. To make a payment against a fine/infringement, enter the amount you wish to pay into the Payment Amount field and click the Pay Now button.
The Pay My Cases screen displays.
07. Complete the fields:
Card Number

Card Name

Card Type

Expiry (MM/YY)

CVV2/CVC2
08. Click Submit.
A confirmation popup appears.

09. Click OK.
The popup closes.
10. Keep the browser open whilst the payment is being processed.
Once processing is complete the Pay My Cases Summary screen displays.

11. Press Print to print a copy of the receipt (or to save to PDF).
12. Press View My Cases to return to the My Fines/Infringements screen.